Executive Mafia Review
Now just for completion I want to give you a full Review of Executive Mafia also known as EXM as well. We took a look at the other Instagram Network which is called the PP Network last time and today I want to give you a honest review of the biggest Instagram Network which is Executive Mafia and also show you some differences between Executive Mafia and the PP Network.
Now if you know my YouTube channel you also know that I already made a couple of videos about EXM. I also have some Executive Mafia review videos on that channel. Anyways, the latest one just shows you the brand new Executive Mafia App so if you want to checkout what you can do with this cool EXM App here is the video for that:
Executive Mafia (EXM) – Tools and Pricing
We are going to start with the pricing in this quick and short review. I think it's pretty interesting especially if you see what option you get. So let's take a look at all the different packages right now!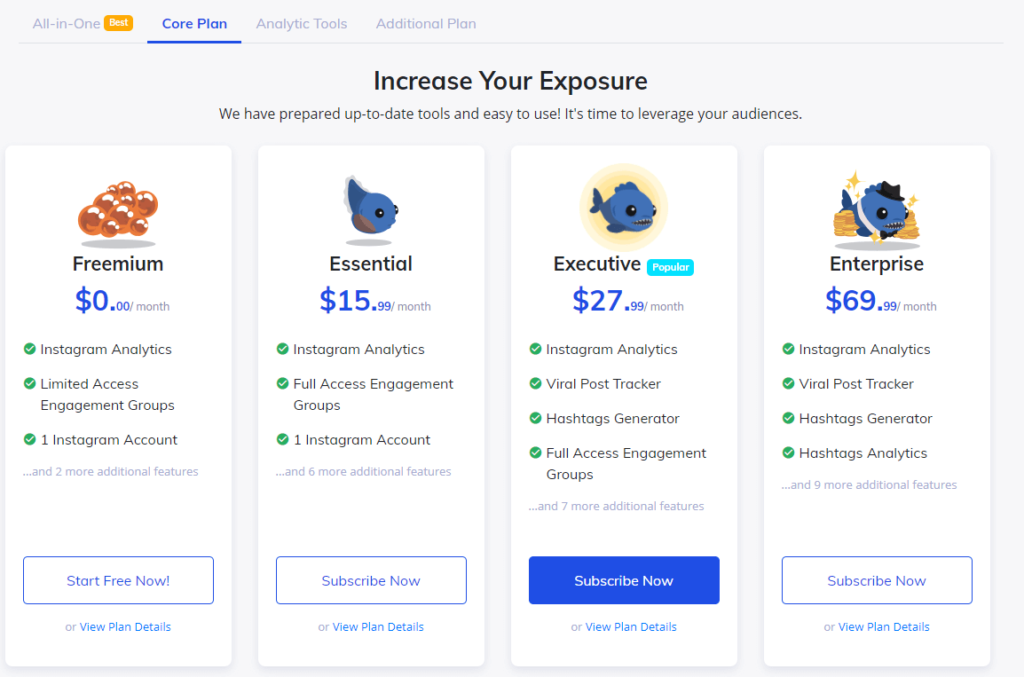 As you can see you have the option to join Executive Mafia completely for FREE. That means you simply can join this Instagram network. Go test some features and if you like it you can upgrade your package. If you don't like it you can just leave. I thinks it's pretty cool that you got the option to join for free right? It's also a pretty good deal if you are looking into the affiliate marketing of Executive mafia. We will do this later in this review.
Now as you may see in the screenshot above Executive Mafia (EXM) also added some new packages. Which they call "All-in-One" these packages are actually a very good deal. The Executive Package of EXM gives you basically the same tools and options and is a little bit more expensive. So let's checkout what do you get in the all-in-one packages: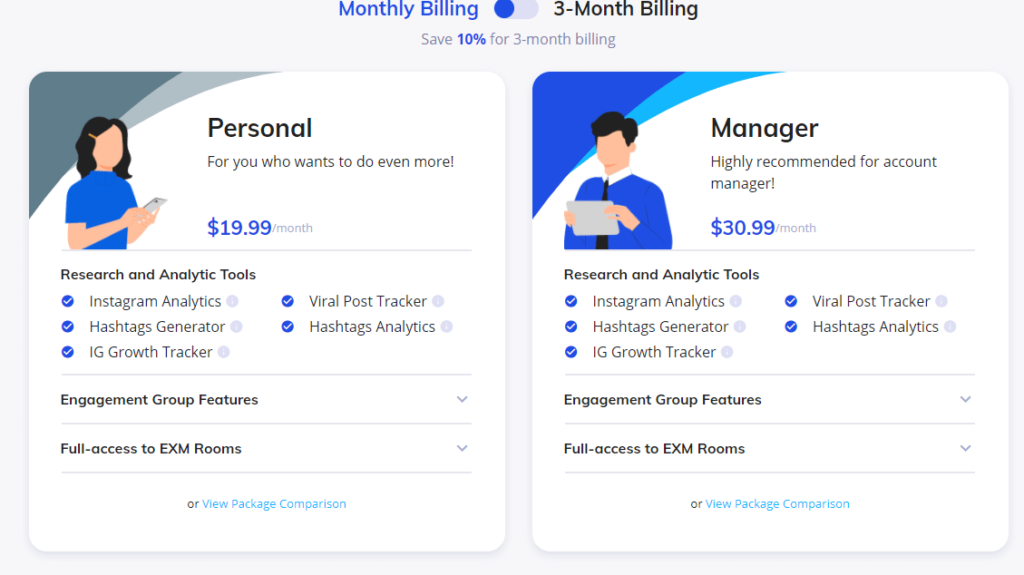 First of all EXM offers you a 3-Month Billing and you can save 10% which is pretty cool huh? But only if you know that you'll use this service for at least 3 months right? Now what you actually get in those packages are all the tools EXM offers.
The difference of those 2 packages is that you only can add a single Instagram account on the personal package. While you can add up to 3 Instagram accounts on the manager package. Now let's check out what you will get on the FREE EXM Package. That's most interesting for you guys am I correct?
What do you get in the free EXM package?
You have access to the "like" engagement round. That basically means that you can participate in an engagement group only for likes. In EXM this round or the bot which manages those rounds is called Theo. Let's be honest, this is about everything you get on the FREE EXM VERSION.
I'm not sure if you have full access to this engagement group. I couldn't find any information about it on the website anymore.. A while ago you also only could participate twice a day with Theo. Maybe they just removed the limit because Instagram Networks and Engagement Groups are slowly dying but who knows?
Essential and Executive package in EXM
Now the Essential Package is probably the most common one in Executive Mafia. You basically get everything you need in this package. You now have access to the other 2 engagement groups or rounds as well. Those help you to get comments and likes as well. What you don't get on this package are the viral post tracker tools andthe hashtag generator tool. That's totally fine for the most members because they just want to get the engagement on their posts. Now what about you?
The Executive Package is basically everything you get on the Essential Package and all the tools you EXM offers. At the moment I don't see any difference with the Personal Package. Which counts to the all-in-one packages. Except the price so if you wanna use all tools just go with that package and you should be fine.
Do DM groups or Engagement Groups on Instagram still work?
First of all let me explain you what DM groups or engagement groups are. A long time ago Instagram used chronological feed. Then they changed, so now your followers will see posts that get the best engagement (likes, comments) at the top of their feed. Of course there are some other factors which are also relevant too, but this is kind of how it works.
Now, that people are lazy they are not scrolling down to the end of the feed anymore. So you want to have your post at the top of your followers feed right? And that's how Engagement groups / DM groups were born. Nowadays all those groups don't have a huge impact anymore but they still kinda work. People on Instagram just changed their behaviour and of course the Instagram algorithm changed as well. Now Instagram wants to "kill" TikTok at least that's what everyone is talking about right? They invented Instagram Reels to do so, so the way to really grow and explode on Instagram right now is by using and recording Instagram Reels. You can get over a million views on an Instagram Reel even if you just have 500 followers which is pretty crazy right?
Now that's not part of this short Executive Mafia review. So let's get back to it! There is a reason why those groups were so popular can you guess why? And yes, I said "were" because those groups aren't that popular anymore. Let's talk about it!
Getting early engagement helps you to get MORE EXPOSURE!
So if you get early engagement you have a very high chance of hitting the explore page or ranking on hashtags and that's also a good reason why Instagram Networks or engagement groups like Executive Mafia (EXM) exist. Is it really worth it to pay for a group or a network when you can create everything by yourself or get invited into them totally for free? Well you actually can join EXM for FREE and just see if it gives you any results and if you like it and want to get more out of it you can just buy a package and connect to likeminded people which is pretty cool right?
Now as I already told you those groups are not that popular anymore but if a networks survives then it's definetly EXM because they are always evolving and bringing out new features. Will they still live in a couple years from now? I don't know but they have much better chances than all the other Instagram Networks out there. So if you want to join an Instagram Network I highly recommend you to go with Executive Mafia.
Tools and what you pay for
I probably should go over all the tools you get in EXM in this Executive Mafia Review now. But to be honest I already did that in the video at the top. If you are really interested in the hashtag research tool and the viral post tracker just watch the video it's much easier and you'll see all the Executive Mafia tools right in action.
The only thing I didn't showed you in the video are the groups. Right now all the groups run on Telegram, which is an app like WhatsApp so just a normal messenger which is free but much better than WhatsApp. In those groups you can connect to likeminded people or just find Shoutout for Shoutout and Post for Post partners. You als have a room for Ads but you only can post Ads if you are on the Executive package or you just buy the all-in-one package you'll also get access to the ads room in that one.
So if you have a service or a product it's a great way to tell about 5k people about it in the Ads room and to I did run some ads for something very easy and simple. I have a huge Instagram page as you probably know @motivation.ninja and I wanted to see if I can sell some shoutouts from that ads room turns out it was not worth it at all. On that page I did sell a couple of shoutouts but in total I guess it were only 2-3 and for me it's just not worth it.
I think most of the people never check the ads room and I don't even know when I looked into the room the last time either.
Executive Mafia Affiliate Program
Now at the end let's talk about the best thing of Executive Mafia the Affiliate Program. If you read my last review of the PP Network you know that not all affiliate programs are good and to be honest I think the PP Network just tried to copy the affiliate system from Executive Mafia and failed hard. Let's take a look at the affiliate program of Executive Mafia and how you can make money with it!
This is how the Executive Mafia Affiliate Program always looked like now does this look familiar to you? Probably, because the PP Network just copied everything for here.. but there are still huge differences between these two Instagram Networks.
First of all you can get up to 40% commission in Executive Mafia as you can see in the screenshot there are 5 different levels. That means you only get 40% commission if you got the highest level right? If you don't understand this yet don't worry I'll show you how it works.
Executive Mafia Affiliate Marketing explained
It's pretty simple you start with 20% commission and if you you invite 50 people or more into the network you'll get 40% commission. For me this was a great motivation but if you are not that good with affiliate marketing it could also frustrate you a little bit. Of course only people who actually buy a package will count for this that means all the people who got invited by you but stay on the free Executive Mafia package will not give you anything.
For the leadership commission they also have different levels and you need to hit some requirements every month in order to get the leadership commission but you can read that stuff by yourself. I can tell you that I never got any issues with the Executive Mafia commission or with the leadership commission at all and if you remember on the other network I had a lot of issues..
Executive Mafia Leaderboard
Now let's talk about the leaderboard and how much money you can make by being one of the best affiliates in Executive Mafia. The best 5 affiliates win prizes in EXM every single month and it's always a prize money. How much prize mone you get depends on how many new people in general get invited to EXM. In PPN the whole prize pool is usually the same as the prize money that the 3rd or 4th place in EXM will get which is a huge difference as well right?
But in the PP Network you will get first place without any problem while you will have a very hard time to get to the top 5 in EXM. The competition in this big network is just huge and to be honest I also can be a big opponent for you and I'm by far not the best affiliate in this network..
How much money can you make?
If you saw the pricing you probably also know how much money you can make with Executive Mafia. You'll also get lifetime commission here. That's something you should always get if you just promote a service or product which people have to pay monthly. You also can use this affilate program if you are on the free version only that means you can make $100 – $500 every single month without even paying for the service and that's something I really, really like.
However if you want to get the leadership commission which can be very huge if you got some affiliate below you then you should pay for a package because the leadershop commission only should be enough for you to be profitable but only if you got some good affiliates in your line don't get me wrong..
If you want to get an idea on how much money I made with the Executive Mafia Affiliate Program you can watch this video right here:
I'll also show you the strategies I used to make money on Instagram with Executive Mafia and their affiliate program. So watching it is probably worth it!
Conclusion & Final Words – Executive Mafia Review
I'm pretty sure that Instagram Networks won't survive anymore if they don't evolve and come up with new features. Luckily Excutive Mafia always tries to give the best user experience. The latest feature they just released was an app. In that app you can generate hashtags and all that stuff which is pretty cool!
I'm still not sure if they will survive because Instagram Networks and Engagement groups are getting less and less popular, which means even Executive Mafia the biggest Instagram Network shrinks and if the numbers don't increase soon, they will also have a hard time.
Now if you got a page in the motivational, quotes, business or infographic niche you should give it a try. It's free and you have nothing to lose right? And maybe you also can make your first dollars online with an affiliate program which actually works and also gives you a nice and pretty dashboard where you can track everything.
At the moment I'm also just a member because of the Executive Mafia affiliate program. So if you are looking for an affiliate program only maybe this is a good choice for you as well. Even if it will not make you the big money it's possible to make a few hundred dollars every month. Sounds like a pretty good start right?

Now that's all for this Executive Mafia review I hope you enjoyed it, thanks for reading and always remember, be a ninja!