How to get a multilingual blog
You speak more than a single language? Then you probably already asked yourself how to get a multilingual blog right? If you use WordPress for Blogging which I highly recommend, it's pretty easy. My goal is it to run this blog in 2 different languages as well so let me show you how you can too!
If you don't like reading you also can just watch my YouTube video:
The Plugins
You probably already run a wordpress blog I guess, if not you need to install wordpress on your domain first. I also showed you how to install plugins in wordpress when I wrote about the Yoast SEO Plugin. So if you don't know how to do these things head over to the different blog posts.
Since it's pretty simple here's the list of the Plugins I recommend for multilingual blogging with WordPress:
Now there are actually a ton of plugins to do what you want do. The most popular is probably WPML. However I decided to install Polylang. I really like it & it's very easy to use. If you just install and activate the plugin you probably don't even need an explanation. You should know how to get a multilingual blog just after your Polylang Plugin is active. But let's still take a look at it!
How to get a multilingual Blog – Polylang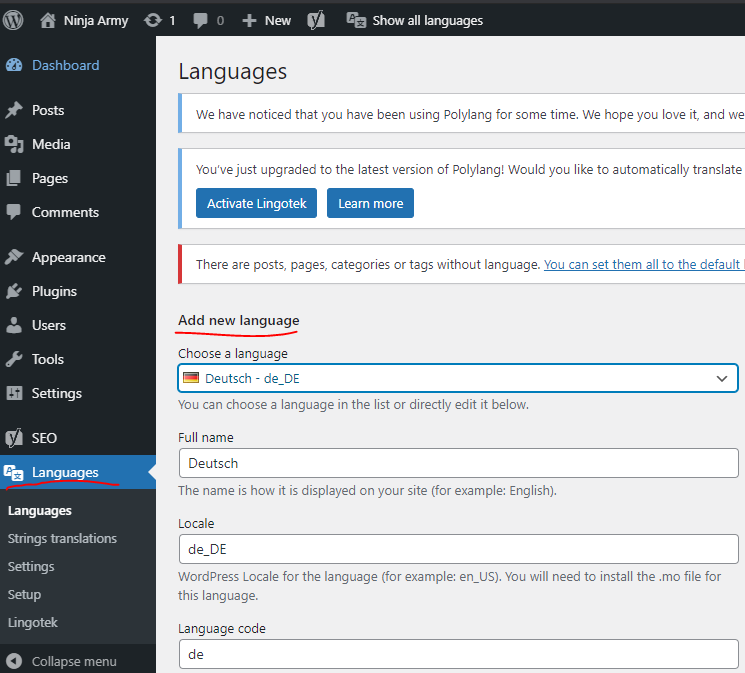 This is how the Polylang Plugin looks like once you installed it. On the left side of your Dashboard you know can choose Languages. It's pretty easy to add a new language. Just choose the Language you want to add and that's basically it. Now you still have to choose your site language. That means your defaul language. For that just go into your settings and set a language like this: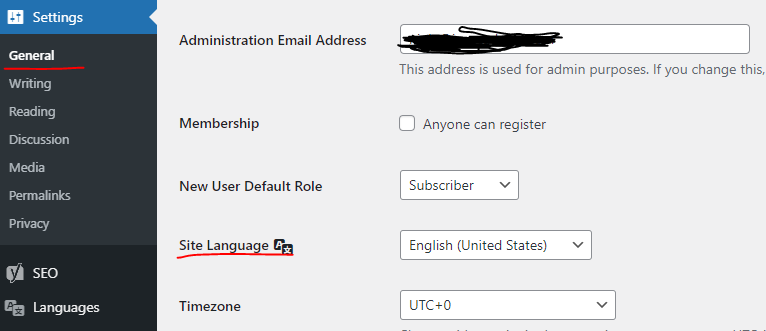 You can add as many languages as you want. Remember that you need to translate your whole website to really make it work. That means all your pages need to be added to your language. All your categories and all your blog posts as well. If you really want the same page in 2 or more different languages.
How to create posts in a different language now?
It's actually pretty easy. You do all the things you did before but now you can choose the language every time you create something new. If your blog is in english and you just want to translate that one post you also can just hit a "+" button on the language you want to add.

As you can see in this example. I'm writing this blog article at the moment in english so it's a draft already. Now if I want to add this post in german as well, all I need to do is to hit the plus icon underneath the german flag. I have to write the whole blog post again though. Just in a different language but that was the goal from the beginning right?
Language Switcher – Polylang
It's also easy and simple to add a language switcher. That means people just have a flag and can switch the language from there. All you have to do is to go to your menu and add the language switcher that you get from polylang.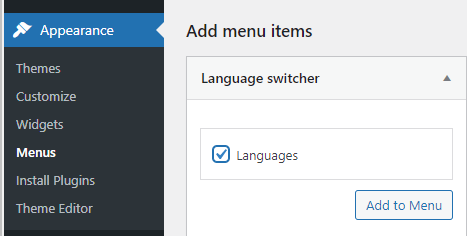 Now it's now wanted in all cases but if you need something like this you get it with Polylang. I don't use it in the moment but maybe I'll in the future. If you want to learn more about Polylang just go to their Website and you'll find all the information you need.
How to get a multilingual blog – Is this all?
Yes, that's all! We covered everything from we need. You can simply add languages and add them to your blog or just to your website with a simple Plugin. Just remember to create translations for your categories, pages and posts as well! If you want to get a language switcher on your site as well you can simply do it in your menu. Now that's all for this tutorial but maybe this is interesting for you as well: