PP Network Review – PPN
Do you ever heard about the PP Network or PPN? If you are familiar with my YouTube channel you probably already saw a couple of videos in which I mentioned the PP Network. Maybe you even saw my PP Network Review videos?
Now I want to give you a whole review on PPN with this blog post. A lot has changed and this will be a quick update for all of you guys who are thinking about joining an Instagram Network. Let's start!
What is the PP Network (PPN) and how does it work?
The PP Network (PPN) is a group of people that help each other. So you can actually really call it a Network. The whole network (PPN) runs on Telegram, which is an app like WhatsApp. Which is also totally for free and I like it a lot better than WhatsApp.
The PP Network (PPN) is kind of an "underground" community with a lot of people who know a lot about Instagram and help each other. There are different packages you can choose from in the PP Network but we will talk about that later on. First of all let us talk about DM groups and how they work and what does the PP Network offer as a solution for that. Now back in the days DM groups really worked and helped you to explode with your Instagram page right? But is it still the same? Let's find out in this PP Network Review.
Do DM groups on Instagram still work?
First of all let me explain you what DM groups or engagement groups are and why you should use them. So a long time ago Instagram used a chronological feed. But they changed it, so now your followers will see posts that get the best engagement (likes, comments) first in their feed. Of course there are some other factors which are also relevant but this is kind of how it works.
Now, that people are lazy they are not scrolling down to the buttom so you want to have your post in the top of your followers feed right? And that's how DM groups / Engagement groups were born. Nowadays all those groups don't have a huge impact anymore but they still kind of work. People on Instagram just changed their behaviour and of course the Instagram algorithm changed as well. Now Instagram wants to kill TikTok and they invented Instagram Reels. So the way to really grow and explode on Instagram right now is by using and recording Instagram Reels. You can get over a million views on a Reel, even if you just have 500 followers which is pretty crazy right?
Now that's not part of this short PP Network review. So let's get back to it! There is a reason why those groups were so popular can you guess why? And yes, I said "were" because those groups aren't that popular anymore. Let's talk about it!
Getting early engagement helps you to get MORE EXPOSURE!
So if you get early engagement you have a very high chance of hitting the explore page or ranking on hashtags. That's also a good reason why engagement groups or Instagram Networks like the PP Network (PPN) exist. Is it really worth it to pay for a group or a network when you can create all those groups by yourself or get invited into them totally for free? Well let's take a detailed look at that. Also at everything that is different in a premium network like PPN.
Is paying for PP Network (PPN) really worth it?
First of all let us take a look at the different packages and options the PPN has to offer in this PP Network Review: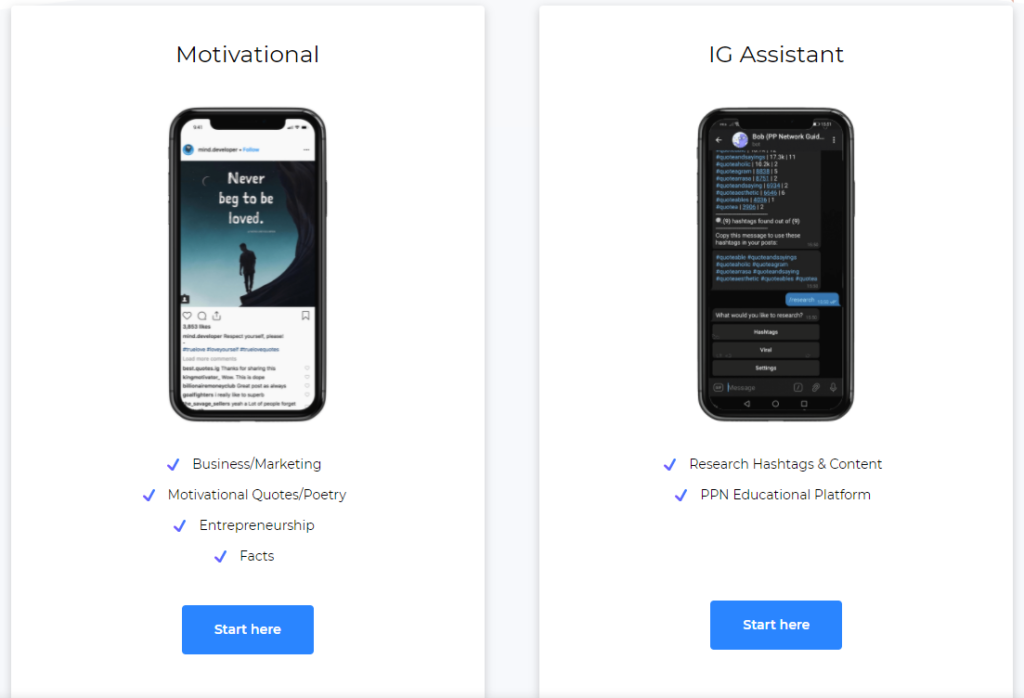 Before we can choose a package we have to different options. We can choose a motivational package and the IG Assistant. We can get all the tools and stuff in the motivational package that we get in the IG Assistant.
The IG Assistant Option basically only gives you access to a Hashtag Research Tool and a viral Post finder and on top of that you will be invited into the Telegram Groups. You don't have an engagement group in that package. So let's take a look at the motivational part and what packages we can choose from.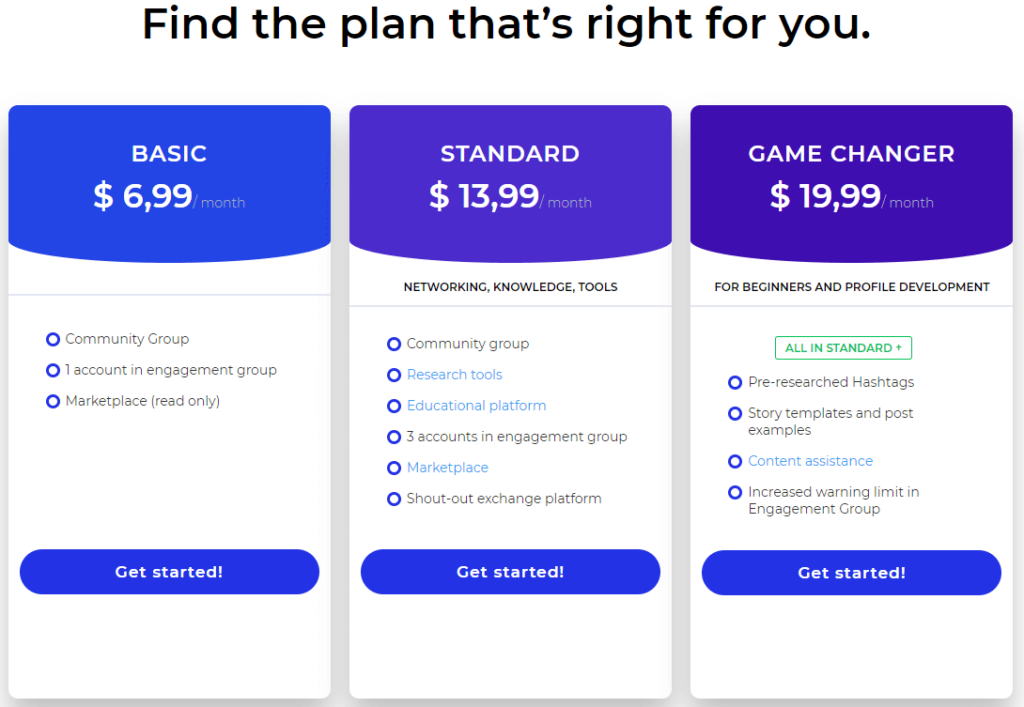 So as you can see you can choose from 3 different packages and the pricing is different. In some packages you get more and in some you get a little less. The standard package is the best package if you want to get access to all tools and also have the engagement groups. If you don't need any research tools and only the engagement group, the basic package should fit your needs. However for this review I decided to go with the Game Changer Packager. Which was $30 back in the days but now the pricing has changed.
Now let's take a look at what the PP Network (PPN) really has to offer:
PP Network Tools:
Hashtag Research Tool
Viral Content Research tools
Inactive Followers Analysis
Educational Platform
Shout-out exchange platform
Marketplace
3 accounts in engagement group
Community group
Pre-researched Hashtags
Story templates and post examples
Content Assistance
If you want to get all of these feature you need to go with the game changer package. The website is lacking a lot of information but I will give you full insights. So I actually have a second part of a review on my YouTube channel but back then you also did get a shoutout from a 100k+ page. This is not included anymore in the package. However if you want to see the video you can watch it below:
A lot of stuff is not included anymore in the Game Changer package but what you probably would love to know how does the content look like which will be created by PPN right? So let's take a look at that next!
Story Templates from the PP Network
Since I paid for the growth booster package which includes content creation I also want to show it to you. However, after about over a week now, the content was not provided. So you really have to be patient if you chose the game changer package right? Maybe they are faster now, who knows?
The PP Network (PPN) created content for me and here are the results, it took them over a week to create this 2 posts and here you can see it: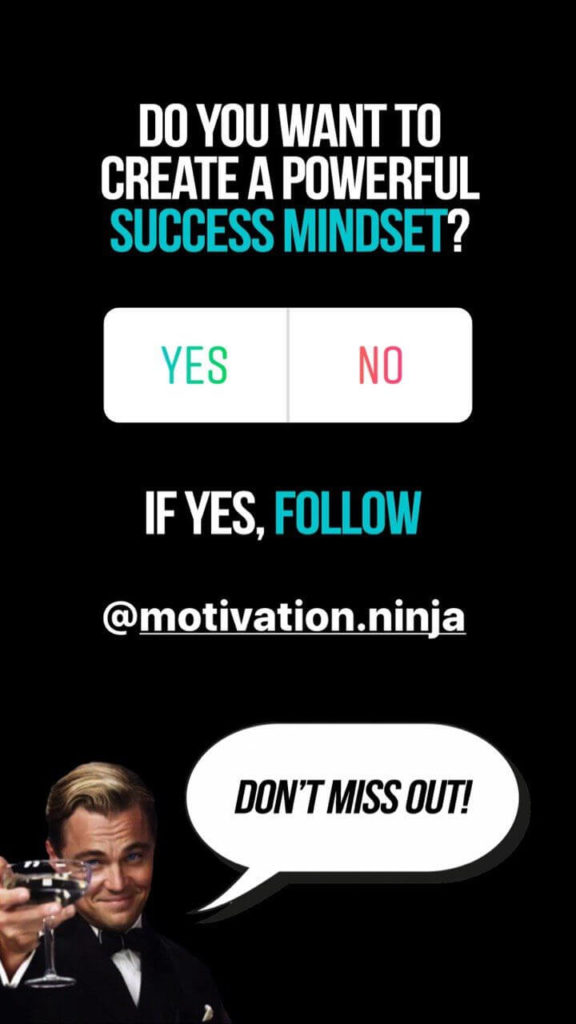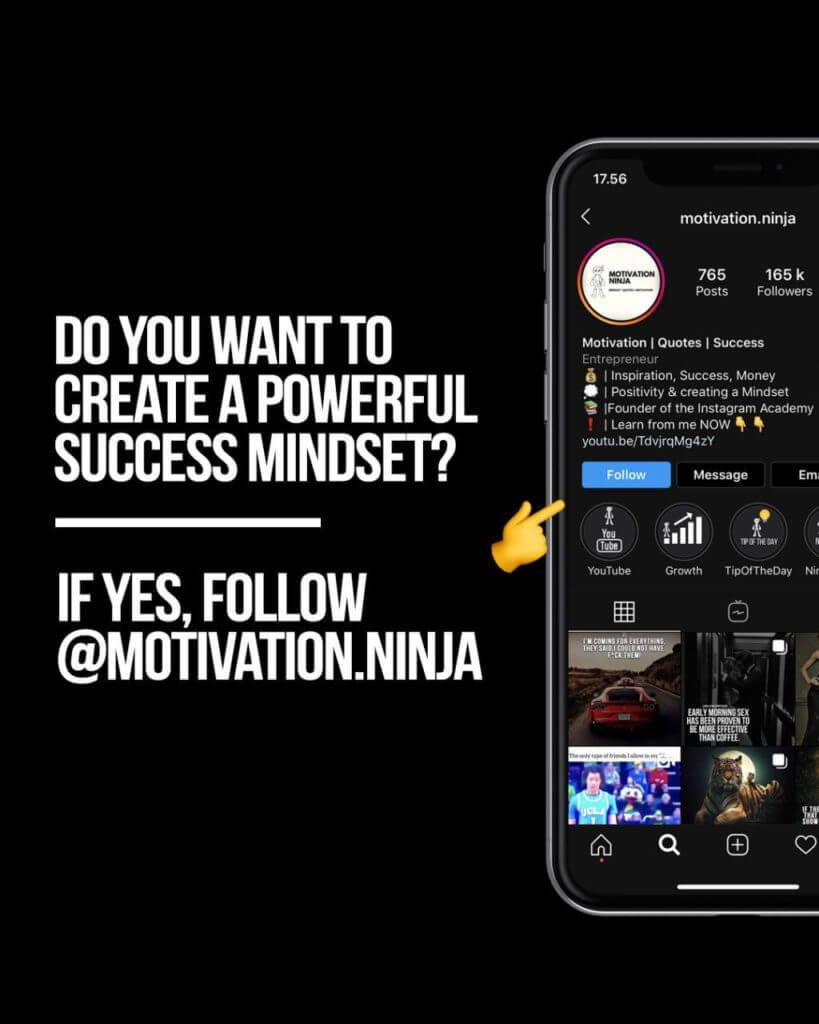 The PPN Affiliate Program
Now let's talk about the most interesting stuff in the PP Network, the Affiliate Program. They actually worked a lot and updated a lot of things I always thought are pretty bad. Now the Affiliate Program from PPN is much better but it will probably don't help you to make a lot of money and I'll tell you why at the end of this blog post.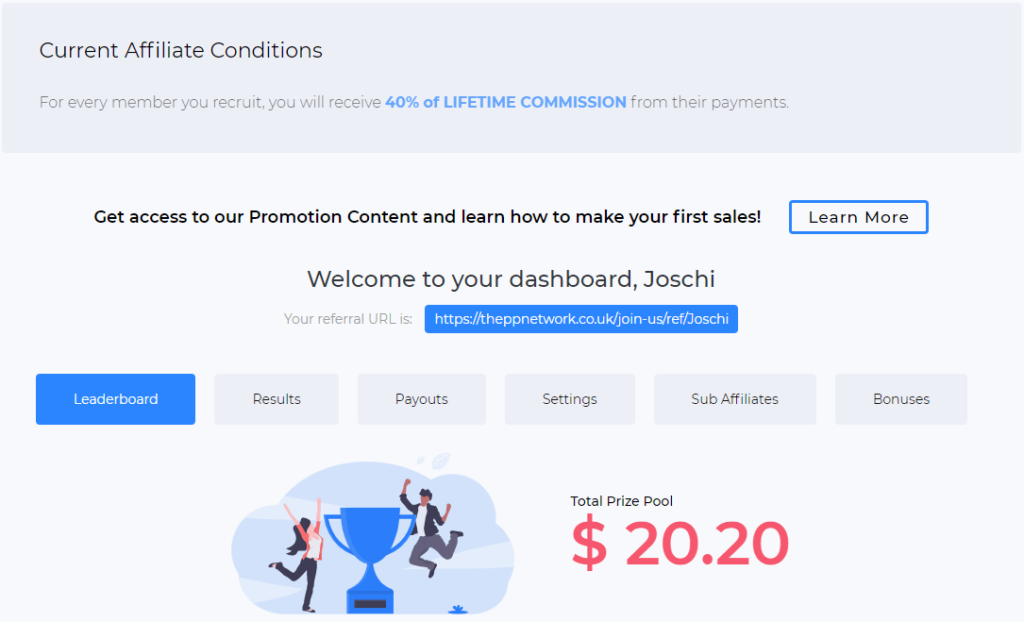 Let's take a look at the current affiliate conditions from the PP Network first and as you can see they updated it so you'll now get 40% commission for every member you invite into the network for LIFETIME! That's the most important thing in my opinion. If you want to use an Affiliate program which people have to pay monthly you should always get LIFETIME commission because you want to get paid right?
Then if you are part of the most successful people in the PPN affiliate program you can win rewards. As you can see the prize pool is about $20. So do you win a lot? No, but it's also not that hard to earn a spot in the top 5 affiliates to get some extra money. If you can make like 3 sales in a month which is not a lot you probably win the leaderboard with no problems at all..
How much money can you make with PPN?
Now as I already mentioned you'll get 40% commission of every sale you make. People only need to use your link which you'll get and the PP Network even helps you to make your first sales which is pretty cool but to be honest it will still be pretty hard to make a sale at the moment because Instagram Networks are slowly dying..
How much money do you actually get with 40% well that depends which package people buy if they buy the Game Changer package you'll get 40% from $20 which would be about $8.
And if this is a NEW SALE you'll be added to the leaderboard and you would get some points. Right now as I'm writing this blog post one sale like this would rank you 1st place on the leaderboard and the month ist like half way gone..

Now what they also changed is that you can now earn indirect commission. What does this actually mean? That means you can now invite people who can become your subaffiliate and if they invite people as well you'll also earn a small cut from that. That's something I also recommend PPN to do and they finally did after a year and now it's maybe to late. If you want to read how this exactly works you can do it here.
Should you use the PPN Affiliate Program?
I'm a member of PPN for over a year now and I also used the Affiliate Program and made a few dollars with it and today I want to be super honest with you. So I'll share my opinion on the Affiliate Program sounds fair right?
First of all I only recommend you to use this Affiliate Program if you also want to join a network like this, which you probably won't right? Now you'll only get commission or you even only can use the Affiliate Program if you are a member of the network. I don't really use this network and I always just subscribed if it's profitable for me. My experience showed that most member quit after the first month. So they are probably not really happy with the service which is provided by PPN right?
Before I talk about some issues I had and all that stuff I want to show you the good stuff in the PP Network and how they at least try to get new members in and get a stronger connection between members. So I made a video about it if you want to know how the PP Network works you can watch it down below:
PPN Affiliate Program
Now the idea of the Affiliate Program is pretty good right? Member are happy and invite new member but I think they don't really care to make their affiliates happy. You get payouts but to be honest I had to check like a million times if everything is correct. Sometimes I needed to contact an admin twice or even more often to get the commission and if you take a look at their affiliate dashboard it's just a complete disaster.
Really the most important thing for an affiliate is to keep track of everything do you agree with me? And I can see some sales on the affiliate dashboard from the PP Network BUT those numbers are so far aways from everything.. So how are we able to check if everything is correct? We can't..
Now as you probably know by now there is a leaderboard which should track the new members who got invited and this little feature is also broken for over a year now I guess.. So whenever you invite new people you have to be lucky to get some points on the leaderboard.. It's just how you should never treat your affiliates. Should you use the affiliate program? In my opinion it's the worst affiliate program you can use because you don't even get an idea of how a good affiliate program looks like. The money you'll make is also pretty, pretty low and you should go with a different product or service if you really want to make money online. Time for my final words and thoughts.
Conclusion – PP Network Review
Instagram Networks and Engagement Groups worked pretty good on Instagram back in 2018 and maybe in 2019 as well but things just changed and you also just see it in those Instagram Networks. I'm pretty sure this network will die in the next year, you already see how it shrinks every month and barely get any new members.
Engagement Groups and Instagram Networks are just not the way to grow on Instagram anymore. So they should evolve and bring out new features that people actually need and for which people would be happy to pay for. In PPN I don't see a lot of changes in the past years. So I do not really recommend it while Executive Mafia also known as EXM is evolving and always brings out new features and you can even try it for FREE.
If you want to get a full Executive Mafia Review as well you can just read my other blog post. Just click here.

The Affiliate Program is also something I not really recommend. If you want to give it a try do it but you'll probably just get frustrated. That are just my thoughts and my words to the PP Network. I hope you enjoyed this little review and there will be some more of those reviews in the near feature.