The truth about IG Coachings..
You probably saw a lot of guys who offer Instagram Coachings and mentorships right? Today I will tell you the truth about IG Coachings. I will talk about my personal experience with some guys who offer services like this. If you want to make money on Instagram you probably already thought about investing in one of those coachings. Before you do that make sure to read this. Maye you'll change your mind..
I also made a 25 minute YouTube video where I talk about everything that happened. To be honest it was an absolute disaster. If you prefer watching a video just feel free to do that here as well:
How it all started..
I already have my page @motivation.ninja and before I bought a mentorship I already had about 250k followers. So I basically knew a lot about Instagram already and all I wanted to do is to make more money with my page. I was making $500+ on average a month. I just saw all those other guys who made $2,000+ a month and I decided to buy a mentorship even if I already know how making money on Instagram works.
The mentorship was very costly and I spend a lot of money on that. In the mentorship I actually just got 3 calls with my "Instagram Mentor". So I paid a lot of money for 3 calls, each about half an hour. So in total I lost a lot of money for 1.5 hours in which I learned absolutely nothing. I actually mean I learned nothing. So that was the first waste of money already. However my Instagram Mentor told me about the ways how to make a lot of money on Instagram which are:
High Ticket Affiliate Marketing
Creating your own digital product
Selling your own Coaching / Mentorship
I was most interested in high ticket affiliate marketing for a couple of reasons.. So at the first place he told me that he can just run everything and I get a cut off it. That would be a got solution. I don't have to do anything and they sell their coaching on my page. However he changed his mind and introduced me to some other guys who he worked with. At this point everything just went from bad to worse.
The beginning – The truth about IG Coachings
So after my Instagram Mentor introduced me to the guys the coaching basically was over. A lot of money wasted for nothing at all. I had a couple of calls with those guys who wanted to sell their coaching and their mentorship on my page. So I got a recommendation from my Mentor right? That's why I gave them access to everything and all they had to do was making money for me. I would earn 50% on every single dollar they make with my page. That was deal. In the end I think that nobody can handle everything as bad as those guys..
I had no transperancy at what they do and all I had was their word. I believed in the good of these guys and trusted them. Sometimes that's just how business works. A month passed and I was excited to get the first results. I hoped those guys would make much more money than me. They want to show normal people like you how to make $2,000 – $4,000 a month just by using Instagram. I would be pretty happy if they would make $2,000 to be honest.
However after a month has passed I was just shocked. I couldn't believe what they told me. They told me they made 100€ in a whole month. How can they only make 100€? If I would give you my page and you had no experience at all you will probably make more money just by selling simple promotions on that page.. And from this point it just went worse.
The first month..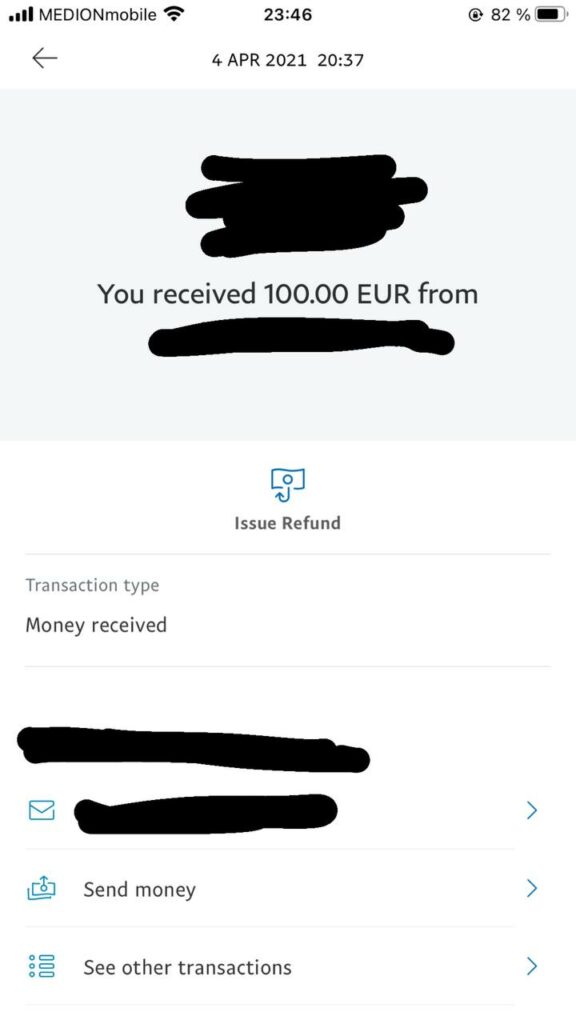 That was my first payment. I waited a whole month to get 100€ I already thought it is a joke. They told me they only sold shoutouts on my page.. Now I was a little bit curious because even if you just sell shoutouts you probably make more money with my page. I mean normally this page makes me $500+ a month.. So I checked the DM's and I actually found 2 people who bought their Coaching or Mentorship. I kicked them out because I could not trust those guys. They are not telling me the truth. That's a pretty good first month huh? Well at least I got a payment in the first month. It will even get worse and worse from here.
I had no transparency and had to believe in the words of those guys. Maybe they sold 20 products or even more I can't see anything right? We had a couple of calls and they convinced me that it will really get better. I decided to give them a second chance. To be honest that was the worst decision I made in my entire life..
For the transperancy they gave me access to their paypal account. So I thought at least I have transparency now and can see all payments. They can't scam me if I see everything right? Well, everything turned out to be a big joke.
The disaster continued..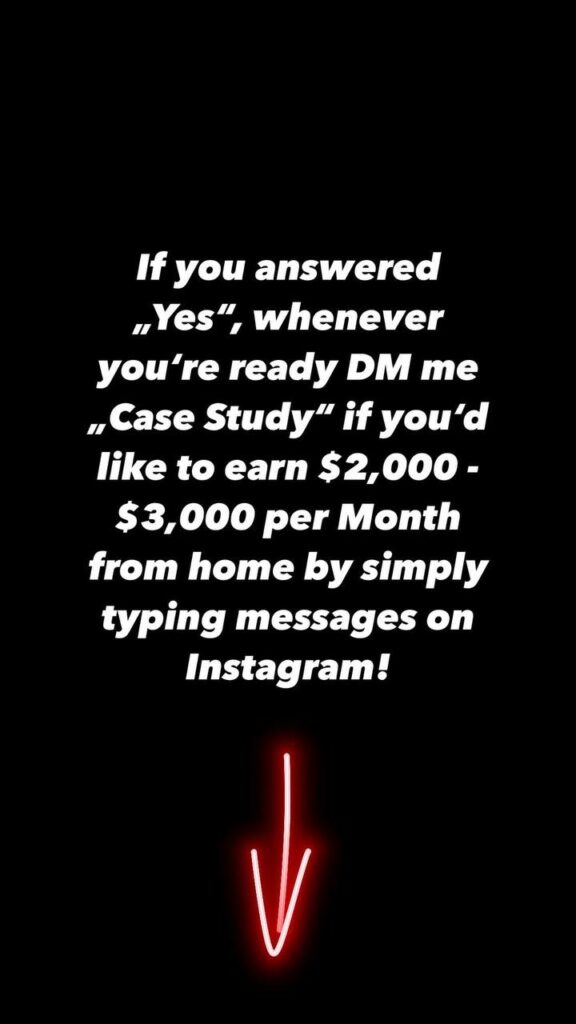 That's how the promotions on my page looked like. So I had a partnership with guys who want to show you how to make $2,000 – $3,000 from home just by using Instagram right? Well in those Coaching, Instagram Mentorship or the digital product they show you how to grow a theme page at the beginning. That means the first step is always to build a following on Instagram. I already had a big following so they should be able to make at least $2,000 right?
Now the truth about IG Coachings looks a little bit different.. First month they only made 100€ so it just could get better right? As a result in the second month I still expected much more. The second month was a little bit better but far away from what I make with my page normally still. They actually just made 260€ in the second month. Which is about the half of the money I make usually.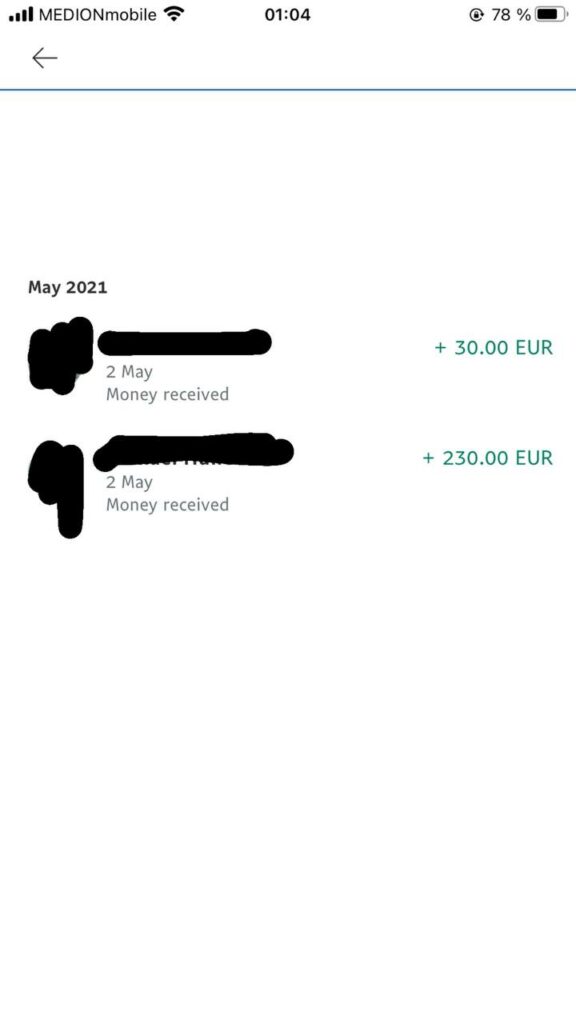 At least they improved a little bit. They always told me at the end of the month that they have some clients in the pipeline who they will close for $1k – $4k. So I waited to see a result like this.. And the next month came..
The truth about IG Coachings – IG Blackbox
At this point I just became very curious. Why? Because they offer Coachings in which they want to show you how to make money on instagram and they made less money in 2 month than I usually make in a single month. That's why I decided to take a closer look at what they sell and what they actually do.
In the beginning I thought that they would just sell Instagram Coachings and Instagram Mentorships but they actually sold a digital product. That digital product is called IG Blackbox. The price of the IG Blackbox is very, very high, which makes sense if I wanted to do high ticket affiliate marketing right? But in my opinion you also need to deliver if you sell a product as pricely as that one. I just took a look inside..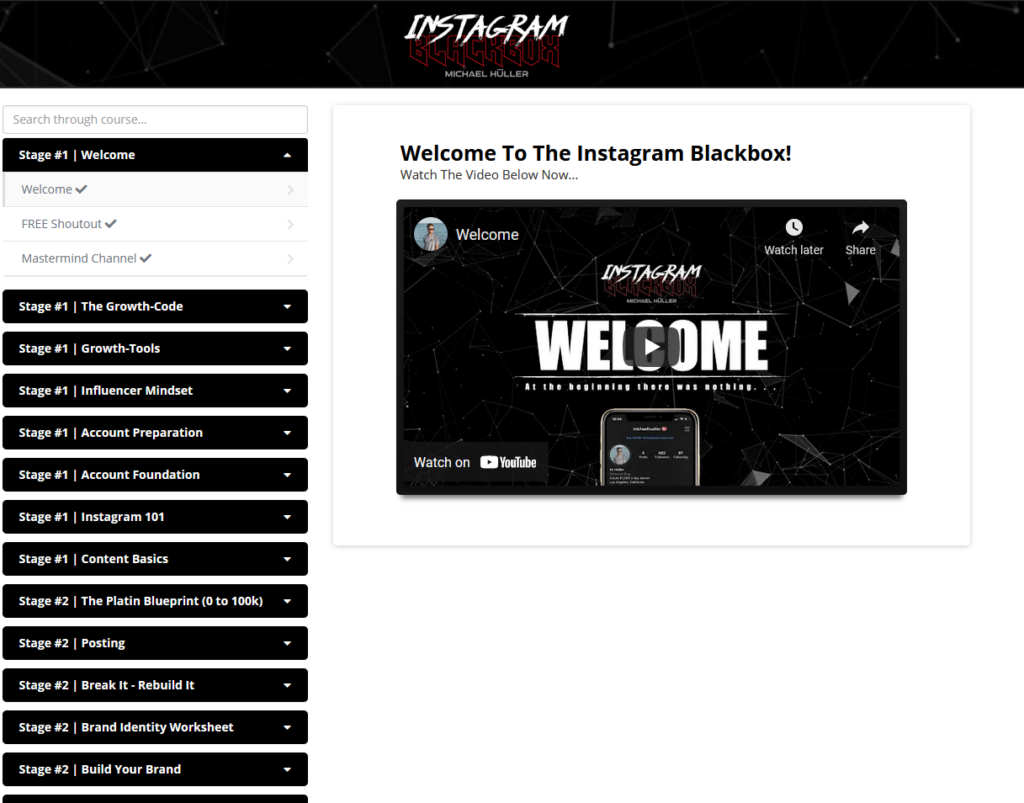 That's the product you pay $500 for. You basically get the same information you'll get in the Instagram University 3.0 by Niklas Pedde or the IG Elites Academy. But there is a difference. You only pay about $7 for the Instagram University and for the IG Blackbox you pay $500. In the IG Blackbox I also see no professional video hosting. They just used YouTube.. So you pay $500 and it's not even professional in my opinion..
Alright on top of the IG Blackbox they also sold Instagram Coachings or Mentorships or however you want to call it. Funny is that the IG Blackbox wants to give you a Blueprint from 0 to 100k on Instagram and those guys don't even own a page which has 100k followers.
The best month – The truth about IG Coachings
The 3rd month was actually the best month and they still didn't make a lot of money. The 3rd month was also the last month I got paid which is the biggest joke in my opinion. We will come to that a little bit later. Just imagine you want to show people how to make $2,000+ on Instagram and you can't even make $1,000 on a 250k+ page. This is a joke right?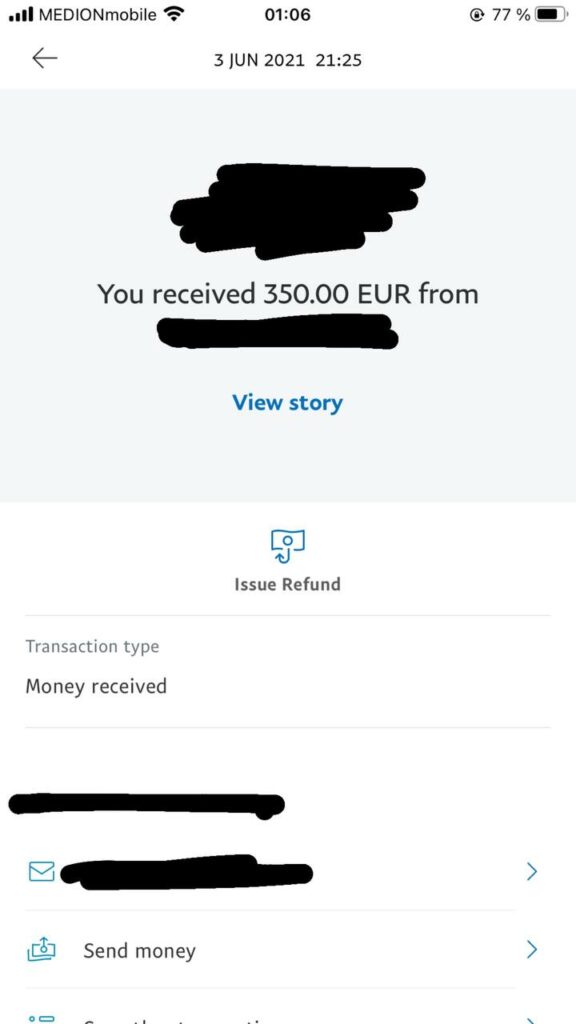 Those Instagram Experts actually made less money in 3 month than I do in a single month if it's a good one.. The sad thing is that I paid for a mentorship because I wanted to make more money with my instagram page. In the end I actually just lost money because those guys just don't know how to make money with Instagram or they didn't tell me the truth and made much more than I know of..
If you read this blog post careful you should remember that I got the paypal access and technically could log in into their paypal to check earnings right? But that's also not the case end everything is just very, very shady.. Now let's take a look at what happened in the last month. You probably think it's a joke but this is what really happened to me after investing into an instagram mentorship..
The Scam – The truth about Instagram Coachings..
3 months have passed so far and they didn't made a lot of money. I told them 2 things. Firstly, I told them that the amount of money they make is way to little and that just about everyone could hit the same results. Secondly, I told them that I want to login into their paypal to check their earnings and compare it with what they told me..
At the end they told me that they used their personal Paypal. Very shady here as well. I still asked for screenshots at least so I get some transparency. They also told me again that they will close some very high tickets clients in the next month so if I wouldn't be happy after the next month I could quit working with them.
However, after that conversation the guy I was talking to just completely ignored me. That means I don't have any screenshots, I don't get any information anymore and I still have no transparency. If you think this is a joke as well it even gets better!
At the 7th July I asked the other guy if he will send me the money. Normally the money should be sent at the beginning of every month. At the 8th of July he told me that he is calculating how much money I will get and that he will send me the money in the evening or tomorrow. The truth about IG Coachings or at least about this Instagram Coaching is that it is a total scam. They still haven't paid me and I'm already waiting for over a month now.. I also don't get any further information about my money at all.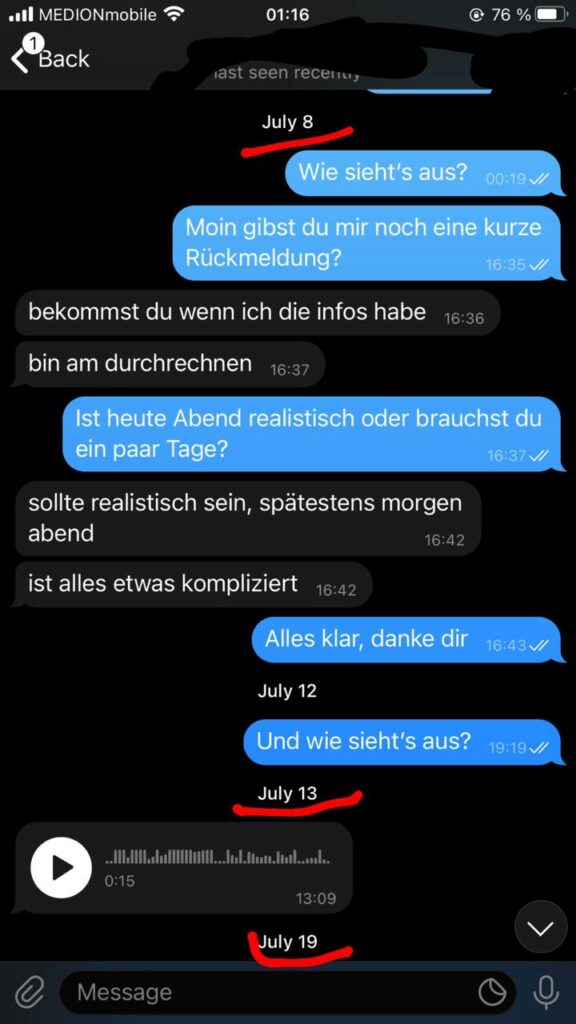 Do you know german?
If you know german you'll see the joke. This guy just told me that he's already calculating how much money I will get and that it's complicated.. After over a month I still haven't recieved any money. Those guys still owe me about $300 – $350. Probably they owe me even more since they also don't share any Screenshots and are not transparent at all. That was a big mistake and now I have to wait for my money to arrive.
I saw how those Instagram Mentors or these Instagram Coaches are working.. I don't believe that I will see the money they owe me ever. Maybe they also just scammed me with the amount of sales they made, because they are not transparent. I made a big mistake and I learned from it! I hope you can learn from my mistakes as well. Be careful what you buy and who you buy from!
The joke about the 1M+ Instagram Network?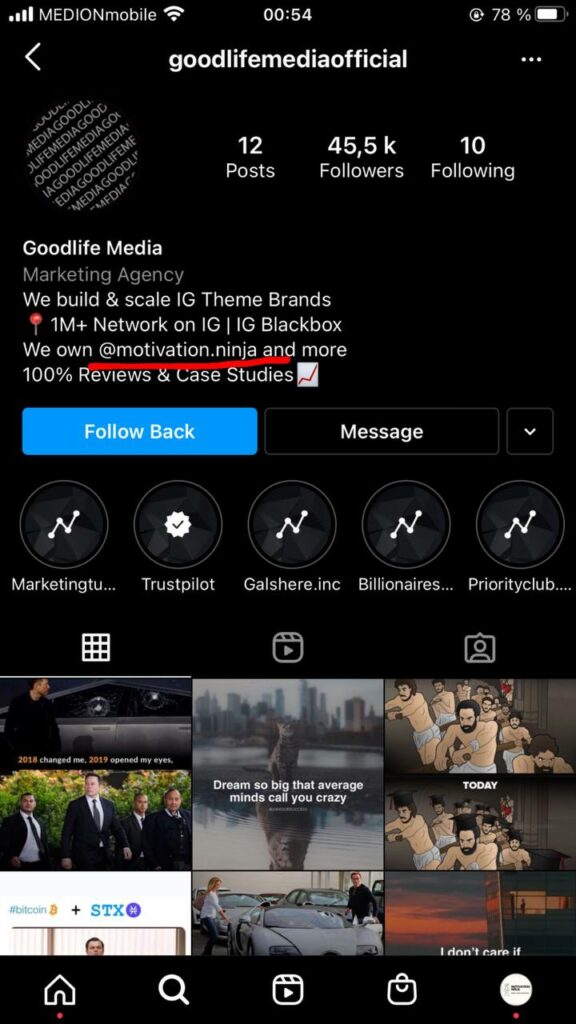 They never owned my page @motivation.ninja they still used it in their bio. Did they asked me? Nope, I just saw it accidentally. But why do they mention my page? Probably because it's the biggest page in their Network and actually the only page which is big at all. Still they just lie to everyone in their bio and that's something you should never do right?
If you go to the personal profiles of one of those guys you even see my page @motivation.ninja in his highlights. He just used my page in his highlight called "My Brands". It's not his brand at all and it never was. Very shady again right? Still they are somehow not able to make money at all.. All the other pages basically have between 20k – 70k followers. One page also has about 200k but that's just a page they bought.
So they bought another 200k page and probably tried to make money with it which may not have worked. At least I guess because they turned those 200k+ page into a personal brand. Now the most funny thing is that they sent people from my page to the personal page in my DM's. It looked like this: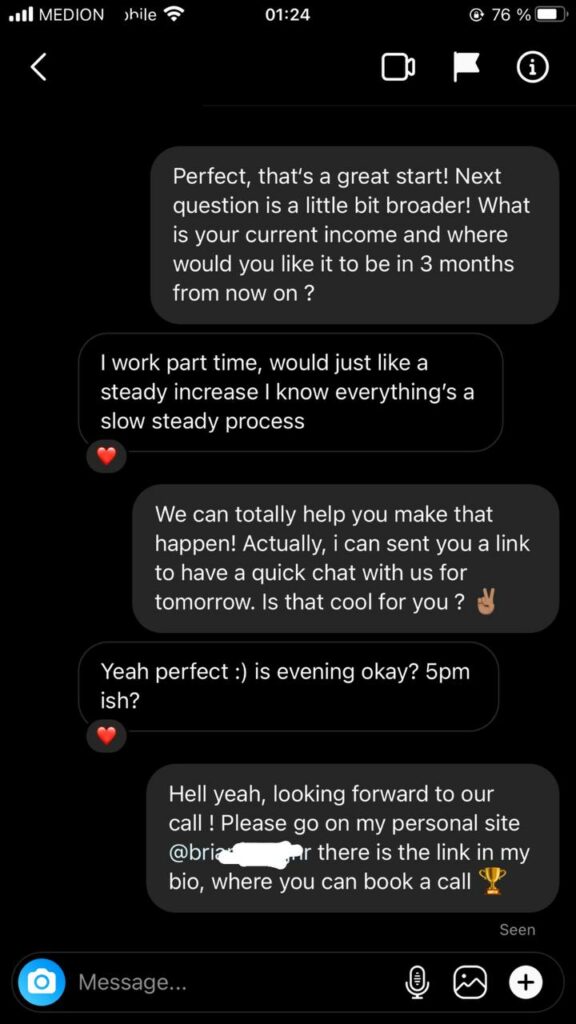 Luckily I noticed that very quickly and asked them why they do it like this. The answer was that this would build relation. I think this is a good joke as well. How in the hell is going to a personal profile and clicking a link in a bio building a relation? However they told me that they would make more money that way.. The truth is they never made good money.
How to not use a page..
One thing I also have to mention here is that they really used my page like they would own it. They posted selfies in the stories and stuff like this. A lot of people already know me and were completely confused when they saw selfies from other guys and asked me if I sold my page..
I told that 3+ times that they should not post selfies and stuff like this but they kept doing it almost until the end.. That's exactly how you should not run your business on Instagram. Next I had a good idea on how I could track the sales. I told them I can just sign up for their affiliate program and whenever they make a sale from my page they just could use my link. That way I would get a notification and would see everything.
This idea is still not the best because I wouldn't see if they really use my link or if they don't. In the end they just told me that affiliate marketing for their product is not possible because they don't have a sales page.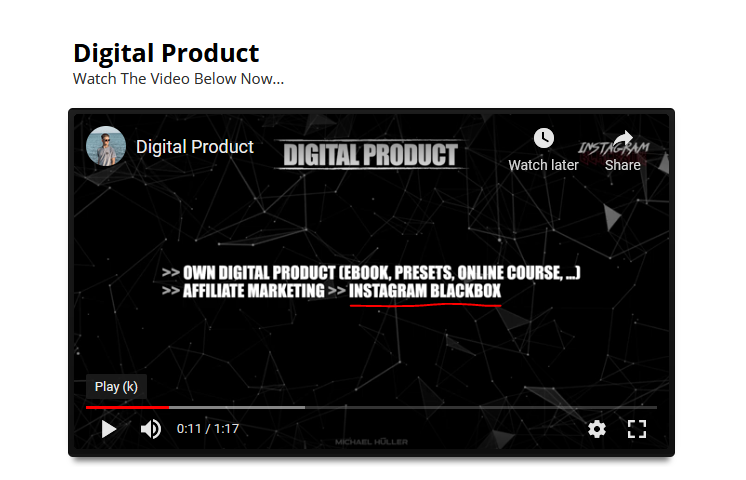 This is a joke right? They tell me that it's not possible to do affiliate marketing but in their training they say something completely different. Do you also think it's a little bit shady?
How to not expand your network..
They used my page for a couple of things already right? It will even get better. Luckily I'm already connected to a lot of pages on Instagram thanks to Executive Mafia. Using a big page like mine is a good way to connect to other pages and also to get those pages into your network. But maybe you should check if those pages are already connected..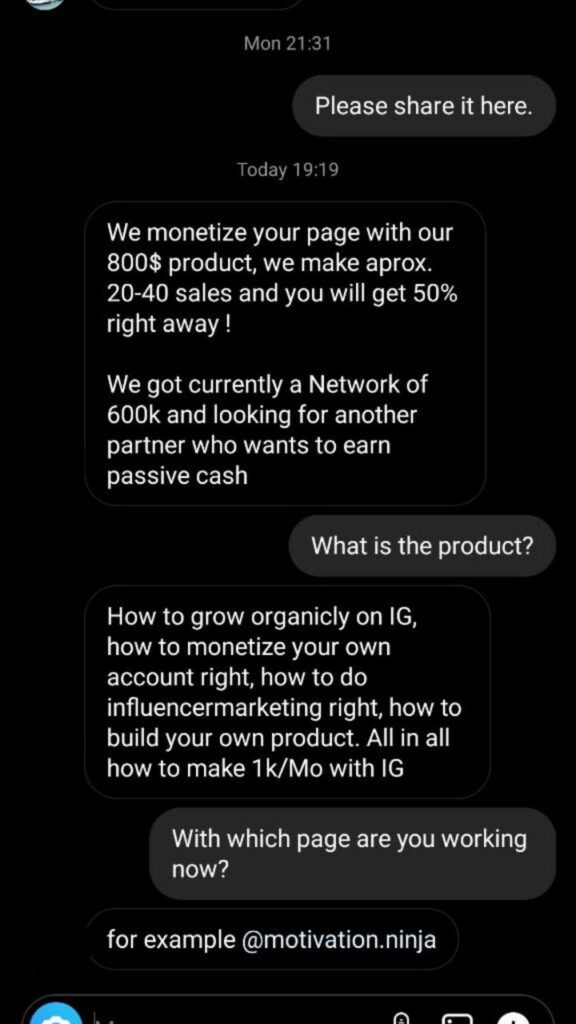 That's what I got from a couple of pages I'm connected to. They just reached out with their personal profiles to other big theme pages and offered them what they offered me. Those pages asked me before they did anything at all. After I explained everything all of those people skipped the offer.
In the screenshot you see that they want to sell a $800 product and that they tell you that they make around 20-40 sales. This is a joke right? They made 710€ in 3 month on my page. That's like 2-3 sales with that $800 product. Also keep in mind that they haven't paid me for the last month I worked with them yet..
So I'm pretty happy that those big pages did reach out to me and skipped the offer. Why? Just because they don't have to go to everything I went through. They don't have to wait for money which probably will never come and all that stuff.
How much money have you lost?
That's a pretty interesting question right? I probably will make an own blog post about this as well. What I can tell you right now that I probably lost over $1,5k in total. And I'm still waiting for a payment which I will probably never see.. Which is still funny because I paid an Instagram Mentor so that I can make more money with my Instagram page and in the end I just lost money. Is this really the truth about Instagram Coachings?
The last update
Now since I was still waiting for my money a few other things happened. Firstly the guy who told me he is calculating how much money will be paid out just DELETED the whole chat. Very, very professional! However I jumped on a call with him after it and he told me the money will be paid out in the beginning of September. So I asked him again at the end of August and he told me again around the first week of september my money will finally arrive. However when I asked on 2nd of Septemeber he just blocked me. This is exactly how you should treat your business. Just scam people.
I just hope nobody else falls for this guy called Michael Hueller. So if you want to buy the IG Blackbox or a mentorship keep in mind he scammed me already so maybe you will become a victim as well.
Conclusion
I made really bad experience with Instagram Mentorships or Instagram Coachings but that doesn't mean that all Coaches and Mentors are bad. That also doesn't mean that all those coaches and mentor will scam you. You should just always keep in mind that what I told you can happen. In my case I can't believe that it even can get worse.. At least I could share my experience with you! I hope that no one buys from the guys I worked with.
They made me no money which means they probably can't make you money either. They don't pay me which could mean that they also will not pay you. And they sell a $500 digital product which is called IG Blackbox which is almost a copy of the Instagram University for $7.
If you just watch my videos on YouTube you probably will make more money than those guys. And if you want to make money on Instagram make sure to check out my FREE Training on YouTube as well! Or give the IG Elites Academy a try. The guys from the IG Elites Academy are very professional and I only can recommend working with them instead of givin the IG Blackbox a try!
You probably can make more money on YouTube than those Instagram Coaches if you just use this:
Now that's all I have for you today! I hoped this little post helped you. If you are interested in Online Marketing and Instagram you could also enjoy these posts: