Yoast SEO Plugin
Today we want to take a look at the Yoast SEO Plugin. This Plugin for WordPress will help us a lot to improve our google rankings. If you want to drive traffic to your blog you want to use this Plugin from the beginning!
I also made a short YouTube Video about the Yoast SEO Plugin and how to use it. If you prefer video over reading, feel free to just watch the video down below.
Installing & Activating the Plugin
Before using the Yoast SEO WordPress Plugin you have to install and activate it right? So this blog post is about the WordPress Plugin only. Let's take a quick look at how to install and activate it!
All you need to do is to go to your Plugins and then hit "Add New". Once you did that you can search for "Yoast SEO". You will find a lot of WordPress SEO Plugins. Yoast SEO is just the most used and in my opinion also the best Plugin.
Now when you see the Plugin all you have to do is to hit "Install Now". Your Plugin will be installed now and you only need to activate it after the installation is finished.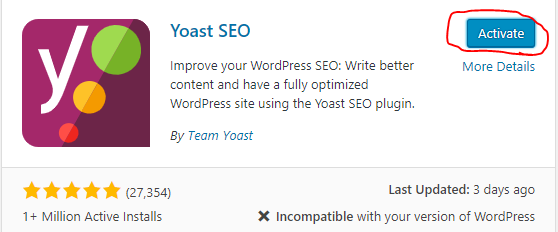 After you activated the Plugin it will appear in your sidebar and you are ready to use it! Let's take a look at how to use the Yoast SEO Plugin!
Creating Blog Posts with Yoast SEO
While I'm writing this blog post I always keep an eye at the SEO tool. Once you installed and activated it, it will help you a lot. You'll get some recommendations for your post and a quick SEO analysis. Pretty cool right?

As you can see in the top right corner you have the Plugin icon. If you just tap on it you will get all the options you see below. You can add a focus keyphrase, which is basically the keyword you want to rank with on google. That's a huge improvement already because without the plugins you can't do something like this.
Now you also get a readabilty analysis which tells you when you use to many words in one section. It also tells you if your sentences are to long and stuff like that. This is pretty cool already but the SEO analysis is even more important right?
SEO analysis – Yoast SEO Plugin
As you can see I didn't used any internal links yet. For SEO that is bad. You always want to use some internal links and some external links. If you don't believe my just checkout wikipedia.org and take a look at how many internal links they have. Wikipedia always ranks very high on google right? So always use internal links!
In general just do what the Plugin tells you to do! You will get much better rankings on google if you just do that. You also see my blog posts has not enough words yet. And then you see I used my focus keyphrase a little bit to often. So just fix that and see your rankings improving! Now the last thing we see is the meta description right? How can we fix that? It's also pretty simple with the Yoast SEO Plugin!
Google Preview and Meta Description
Now you can edit the google preview and add a meta description. All you have to do is to scroll down to the bottom of your blog post. You have a box in the bottom where you can insert all the information. It looks like this: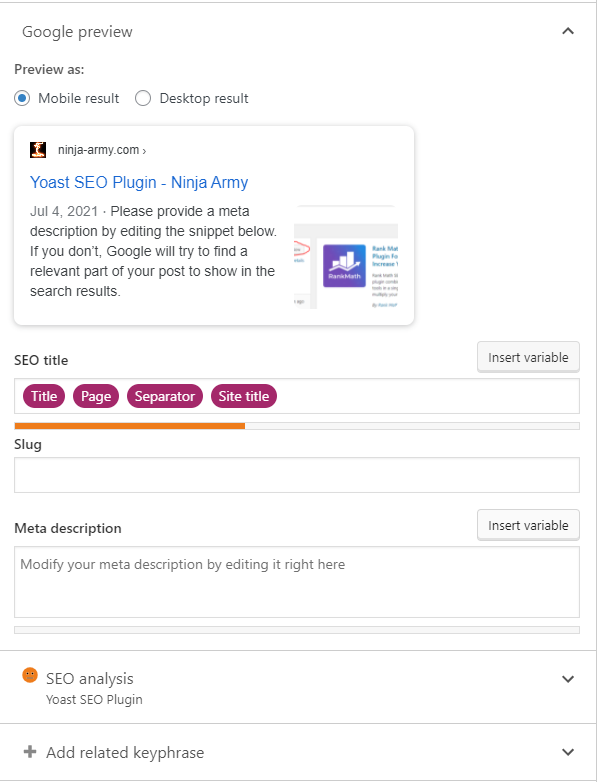 As you can see we can even choose the SEO title. We also can write our own meta description. This description will be shown if your page ranks on google. If you write a good text here more people will click on your page right? So you want to do all that as well. Now take a look at that URL: https://ninja-army.com/how-to-install-wordpress-via-ftp/.
The slug is basically the part after the "/" of your domain. So in this example the slug would be "how-to-install-wordpress-via-ftp". Use a good slug as well that describes what your page or your post is about!
You also see some other options but you can't use everything in the FREE Plan of the Yoast SEO Plugin. That means if you want to have 100% access to everything you have to pay. I probably will buy this Plugin in a bit and then we will take a quick look at it together! That's all for now, time for you to rank on google NOW!