YouTube Keyword Research with TubeBuddy
Today we want to take a look at how to do a YouTube Keyword Research with TubeBuddy. We already looked how to do the research with vidIQ and now it's time to take a look at TubeBuddy!
As always I also prepared a short YouTube video for everyone who prefers watching a video instead of reading a blog. Feel free to smash the like button as well!
Let's do a FREE Keyword Research
Well, you can use TubeBuddy totally for FREE! That's pretty cool right? Now if you already saw how everything worked on vidIQ I recommend to do it a little bit different with TubeBuddy. You also can login into your dashboard and take a look at some stats on the TubeBuddy Website right? Well you want to do the YouTube Keyword Research with TubeBuddy directly on YouTube. All you need is the TubeBuddy Browser Extension!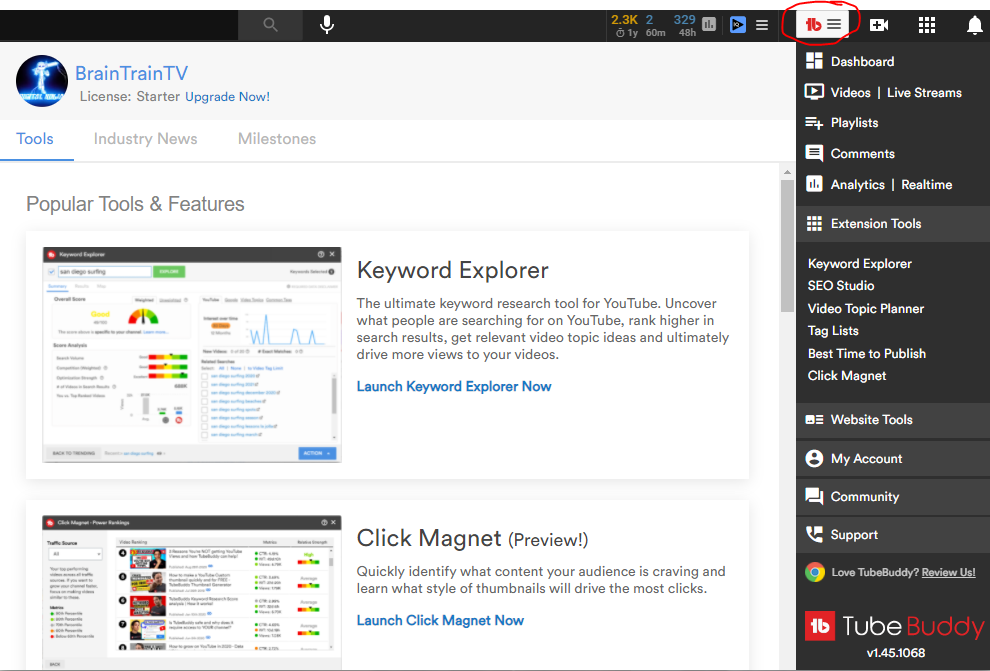 That's how the TubeBuddy Extension looks like. Right next to the Tubebuddy extension you see the vidIQ Extension and you can use both YouTube tools for FREE! To find out which one is better check Tubebuddy vs. vidIQ!
Now if you click the TubeBuddy Icon on YouTube you have access to all the tool. We want to take a look at the Keyword Explorer right? So let's do that real quick.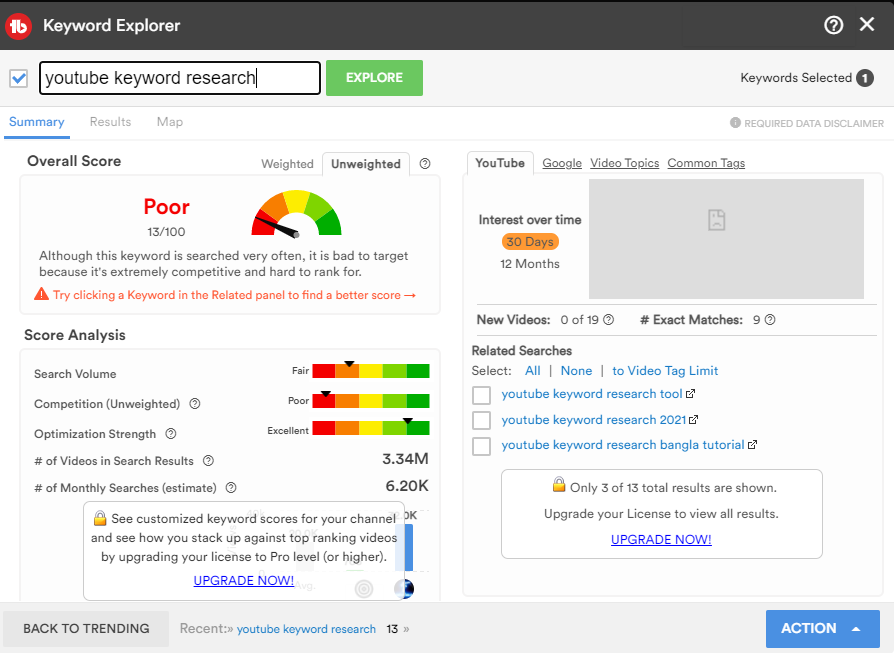 That's it! Here you get all the information you need for a good YouTube Keyword Research. You have an overall score, the search volume, the competition and the optimization strength. You also get 3 related searches. As you can see my Keyword is very weak. Probably it will not perform well. So you would need to throw in a different keyword. I think the traffic system from TubeBuddy is pretty cool. But I still like the vidIQ Keyword Explorer a little bit better!
YouTube Keyword Research with Tubebuddy – is this all?
Well, we just wanted to take a look at the Keyword Research of TubeBuddy and that's what we did. TubeBuddy has a lot of more feature that really can help you to grow your channel. So you should check it out yourself! If you still wanna learn more about TubeBuddy and vidIQ you might like these posts: